The ACCME's 2022 Annual Report data was released on July 13, 2023.  The report highlights continued growth in the accredited CE enterprise and emphasizes how accredited providers have "weathered a storm, regrouped, and rebounded" in the post-pandemic world to continue to offer quality education to the healthcare community.  Featured in the report are present and evolving challenges facing providers, including artificial intelligence and equity in healthcare. The report analyzed data from 1,620 accredited CE providers who offered, collectively, approximately 230,000 CE activities.
Analysis shows an increase (8.82%) in participants attending accredited CE activities. A continued trend is that non-physician participants attending CE activities (60%) continue to surpass physician participants (40%).  Non-physician participant interactions increased by 16.98% from 2021 to 2022; this was a noteworthy increase as compared to 2020-2021 where the increase was only 1.47%.
The number of physician learners decreased slightly by 1.49% in 2022 (323,119 physician interactions less than 2021).  This is the second decrease in recent years, with the last occurrence in 2018 (-0.92%).  The overall number of accredited CE activities offered increased by 12.91%, while learner participation also increased by approximately 4 million learners. Three-year trend data illustrates that the number of physician participants has increased by 17.36% while the number of non-physician participants at accredited CE activities has increased by 18.70% since 2019. Overall participation in accredited CE activities has increased each year since 2010.
Total, annual income reported across providers increased by 20.45% from 2021, up by approximately $575 million. Commercial support income, however, decreased by about $1.1 million, a decrease of 0.125% from 2021.  A significant increase (74.02%) was noted in advertising/exhibit income from 2021, equating to an approximate $272 million increase.
Providers continue to recognize the value of interprofessional continuing education.  The number of providers accredited by Joint Accreditation increased from 132 in 2021 to 146 in 2022.  The ACCME's report confirms the accredited CE enterprise continues to make available high-quality CE activities that promote interprofessional learning and improvements across clinician competence and performance.
Accredited educational activities increased by 12.91% in 2022, and overall learner interaction increased by 8.82%.
Physician participation at CE activities decreased by 1.49%, while non-physician participation increased by 16.98%.
Total commercial support decreased by 0.125%, an estimated $1.1 million.
Income from advertising/exhibits increased significantly from $368 million in 2021 to $639 million in 2022, a direct result of an increase in live, in-person CE activities.
Total annual income for CE increased by $575 million, a 20.45% increase from 2021.
Provider Type Comparison Data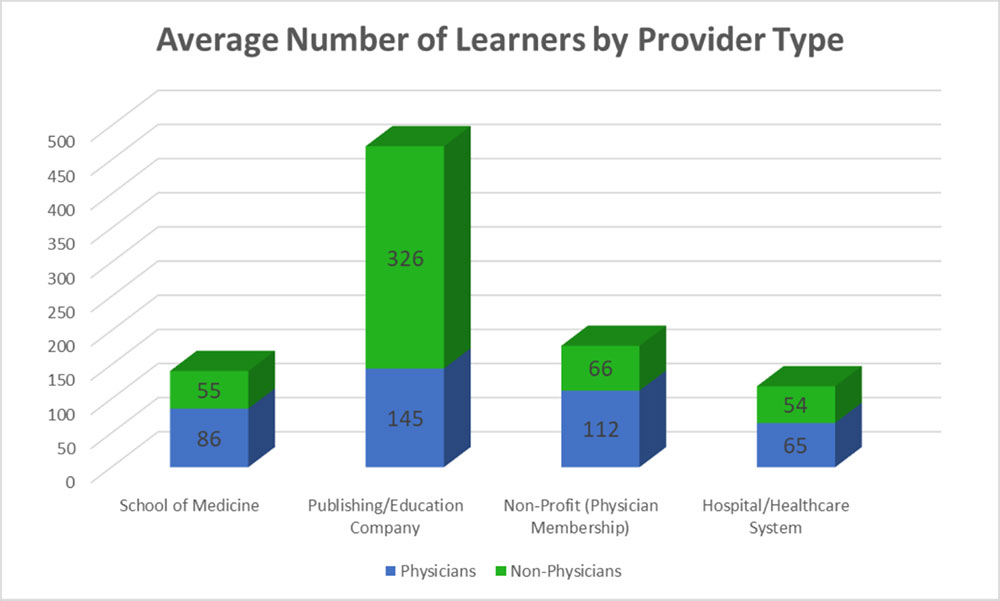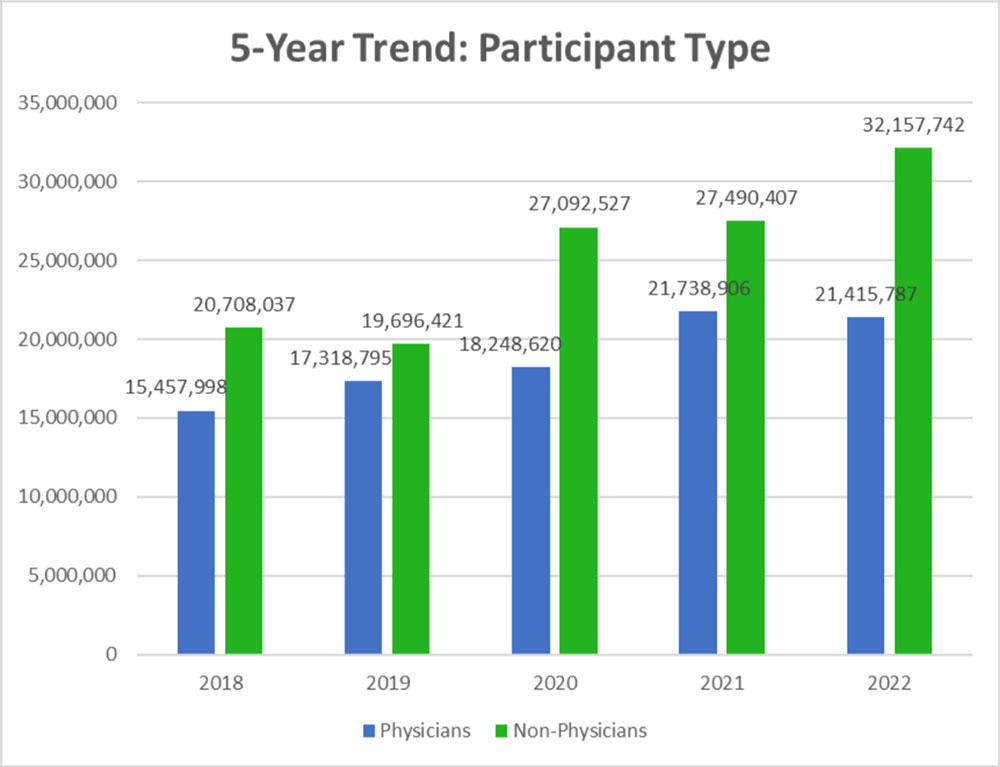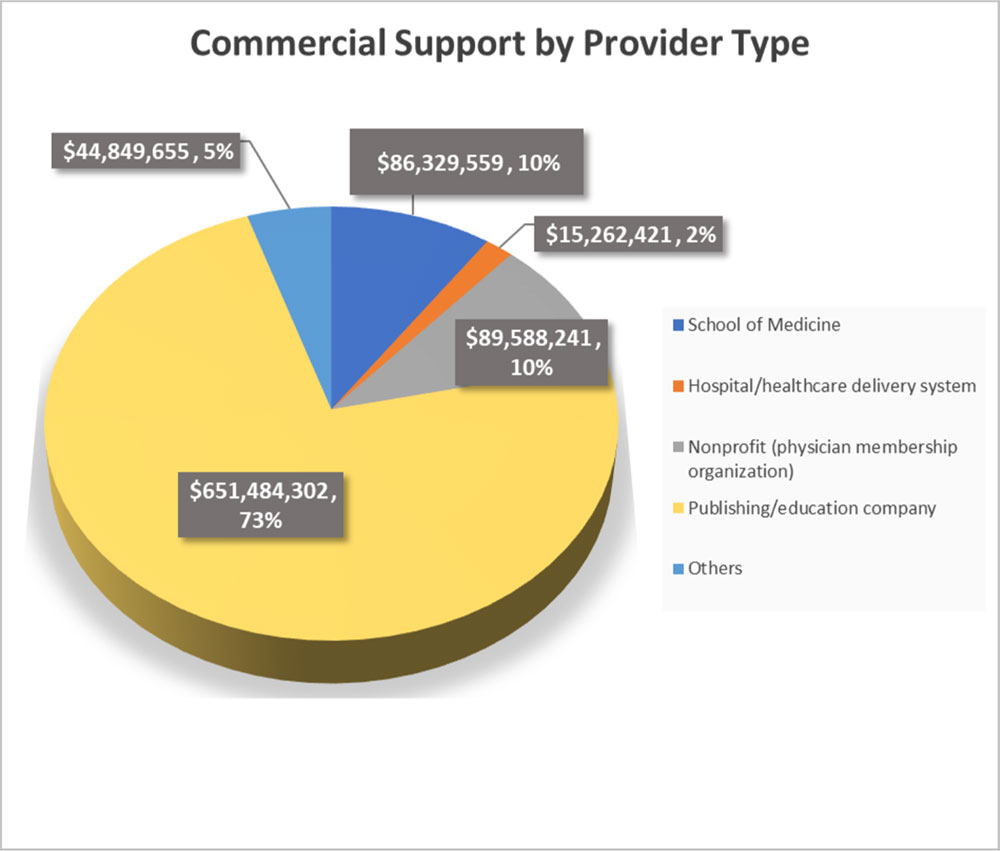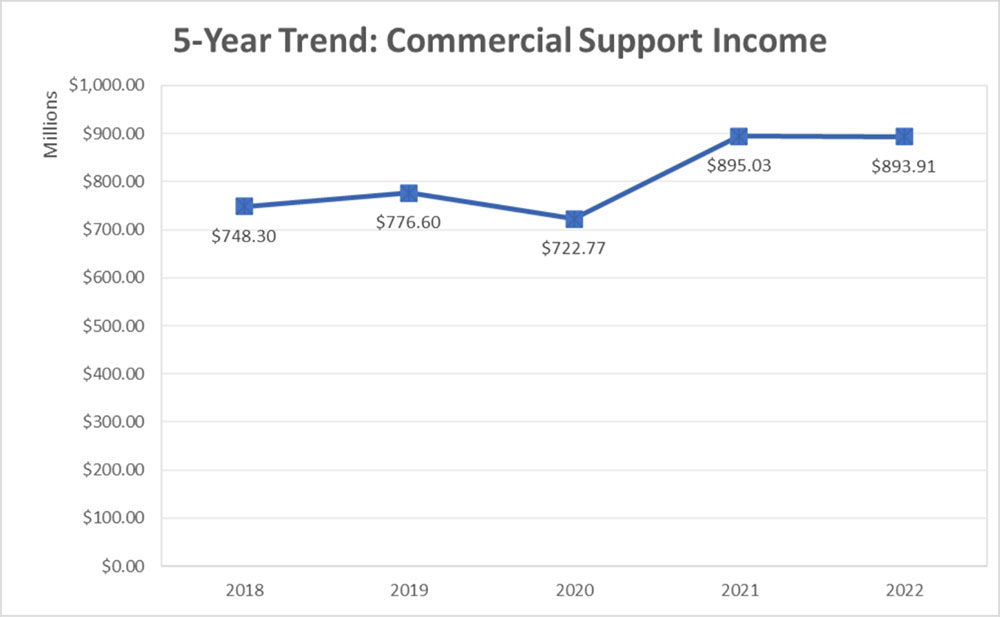 For a full copy of the ACCME 2022 Annual Report, utilize this link.