Technology Solutions for CME/CE Programs Amid the Coronavirus (COVID-19) Pandemic
As the CME/CE enterprise makes needed adjustments to meet the educational needs of healthcare professionals amid the current coronavirus (COVID-19) pandemic, AOE is making available resources that may prove useful as you navigate potential workflow adjustments, or work to transition live, face-to-face activities to an online format. The table below features several platforms for virtual classrooms and learning management systems.
NOTE: The companies featured above are not a comprehensive list and you may have additional recommendations we would love to hear about. AOE is not specifically endorsing these companies, but the companies featured are some we have engaged with directly, encountered through professional conferences, and/or learned about through clients.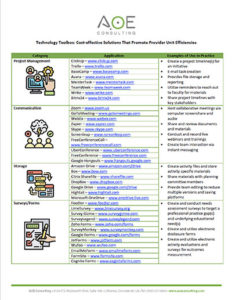 As a second resource, AOE has compiled multiple technology solutions in this downloadable Cost-effective Solutions That Promote Provider Unit Efficiencies PDF, that could support increased efficiency within your CME/CE program. This handout was provided as part of a recent presentation AOE staff delivered at the Alliance Annual Meeting in San Francisco, this past January. Technology solutions featured include a number of free or inexpensive solutions.
Finally, in the ACCME's recent communication regarding the PARS annual reporting extension, updated FAQs were made available regarding activity reporting, as the format of activities may change.
Please don't hesitate to reach out should you have specific questions about an upcoming CME/CE activity(ies) being planned by your organization. This is a unique time for everyone, and the AOE team is poised to help navigate CME/CE solutions as you look to keep your learners informed and updated with needed medical education.