Welcome to AOE's first 2023 edition of AOE Compliance Connection, our monthly newsletter. In this January edition, we feature a new article from Graham McMahon, ACCME President and CEO, about the surprising role of commendation criteria in CE. We also launch into a new series on the sometimes-confusing world of employee/ownership when it comes to stocks and Standard 3! Finally, we look at how AOE can help organizations with the progress report process. As part of your corporate New Year's Resolutions, make sure to follow us on social media (Twitter and Facebook) for weekly compliance tips and updates – they are designed to make your life easier! As always, email us at inquire@aoeconsulting.com with any and all questions and comments!

ACCME Article: Commendation Criteria Incentives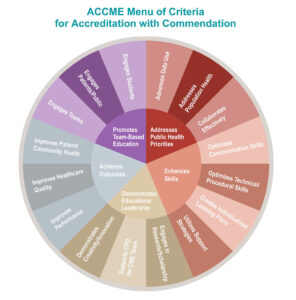 Graham McMahon, MD, MMSc, ACCME President and CEO recently published an article in the Journal of European CME that addresses the value of commendation criteria in CE. "Incentivising Higher Level Outcome Achievement in Continuing Education: Five-Year Experience from the ACCME Commendation Criteria" addresses how the inclusion of accreditation incentives can enhance the performance of CE providers and even improve the quality of the education itself.
McMahon's article discussed data analyzed by the ACCME: of the 1,053 accreditation decisions made between November 2017 and March 2022, 122 applied for commendation and 49 (40%) were awarded that distinction. The data analysis showed that accreditation incentives, such as commendation, "can change the performance of educational providers and augment the quality and efficacy of continuing education".
Initially designed to "incentivize a variety of behaviors and outcomes from accredited providers", the Menu of Criteria for Commendation includes five categories. The designation of commendation is for those providers who: Promote Team-based Education, Address Public Health Priorities, Enhance Skills, Demonstrate Educational Leadership, and Achieve Outcomes.
The full article can be found here.

CE Compliance Help: Unpacking Employee/Owner Relationships
What should we do if an individual reports that they own stock in an ineligible company? What if it's a public company? What if the educational content has nothing to do with the company's business?
The area of employee/owner relationships can be confusing, especially when you, as the accredited provider, are trying to decide which financial relationships are relevant and mitigatable. For the next three months, AOE will unpack these questions to help you stay compliant as you plan your next CE initiatives. This month, we'll look at the basics of employees/owners, next month we'll discuss stockholders and reported stock options, and in March, we'll explain the three exceptions to the rule made by the ACCME.
According to Standard 3, which focuses on the identification, mitigation, and disclosure of relevant financial relationships, CE providers are required to exclude owners or employees of ineligible companies from their CE initiatives. Standard 3 states that "these individuals must be excluded from controlling content or participating as planners or faculty in accredited education".
But what does this mean for stockholders?
Recently, the ACCME clarified that holding stock in (privately held) ineligible companies is the equivalent of being an owner or employee of that company. An ACCME FAQ asks: "If an individual reports that they own stock in an ineligible company, how should the provider manage the relationship?" And since individuals who own stock (not through a mutual fund or pension plan, the ACCME clarifies) in privately-held ineligible companies are considered to be owner or employees they must be excluded from roles as planners or faculty (or any content-controlling) in accredited CE.
Next month, we'll look at how that differs when the ineligible company is a public one, and what if it's stock options?

AOE Spotlight: Navigating Progress Reports and Probation
AOE's commitment to helping our clients doesn't just apply when things are going smoothly. If the December release of "probation" and "progress report" lists have become part of your reality, we are poised to help you navigate this season successfully. Many providers can attest to the fact that we have worked with them to address the ACCME issues of noncompliance raised, including the development of progress improvement plans that earn ACCME's accreditation status.
We know that compliance with ACCME accreditation criteria requires a combination of quality resources and excellent implementation of policies and procedures directing your CE program. In fact, we have helped more than 30 accredited organizations demonstrate excellence and maintain ACCME, ANCC, and ACPE accreditation by making timely modifications to improve their respective programs.
So whether you are looking to tackle your next progress report or move from ACCME probation to accreditation, we can help. We also can help you identify best-practice case examples from other accredited organizations that could enhance your quality improvement process!
Here are just a few of the related services we offer:
Guidance with required ACCME correspondence including submission of progress improvement plans, performance-in-practice evidence, and ACCME's Annual Report
Development, management, and maintenance of policies and procedures
Outsourced management of your accredited CE program to ensure compliance and education

 

success
Day-to-day coordination and management of all required accredited CE files, identification and mitigation of relevant financial relationships, content and educational outcomes methodology
Accreditation and reaccreditation management
Don't hesitate to reach out to AOE with questions about how we can help!
Alliance Annual Conference
This February, AOE will be attending the Alliance 2023 Annual Conference, from February 6-9. This year, the conference will take place in National Harbor, Maryland. Several of our staff will be in attendance and we'll hope to cross paths with many of you!