Welcome to the July edition of AOE Compliance Connection, AOE's monthly newsletter! We look forward to sharing our monthly board updates (ACCME, ACPE, and ANCC) and event and news updates for the CME/CE Enterprise.
We are continually inspired by Aristotle's words: "We are what we repeatedly do. Excellence, therefore, is not an act, but a habit." At AOE, excellence is more than a habit—it's our business.
This newsletter is just one of the ways we come alongside our clients and help you navigate CME/CE compliance success. We encourage you to visit www.aoeconsulting.com for more information, including weekly compliance tips and information about our services and each AOE team member!

Accreditation Board Bulletin
ACCME: The ACCME recently responded to the Centers for Medicare & Medicaid Services' (CMS) call for comment regarding the Merit-Based Incentive Payment System (MIPS) approach detailed in the Medicare Access and CHIP Reauthorization Act (MACRA) of 2015.
Under MACRA, MIPS is a new program in which qualified professionals will be evaluated on the following criteria: Quality, resource use, meaningful use of certified electronic health record (EHR) technology and a new area – clinical practice improvement activity.
A clinical practice improvement activity is defined as an activity that improves clinical practice or care delivery which is likely to result in improved outcomes. MIPS is based on a 100-point score with clinical practice improvement activities (CPIA) representing 15% of the score. The ACCME believes that CME should play an important role in helping CMS achieve their quality measure objectives in the area of clinical practice improvement activities.
The ACCME is requesting that:
Accredited continuing medical education (CME) is recognized by CMS as a relevant clinical practice improvement activity within MIPS
ACCME's Program and Activity Reporting System is designated by CMS as a reporting mechanism for clinical practice improvement activities.
Responding to the CMS call for comment is part of the ACCME's ongoing efforts to provide solutions for physicians and other health professionals by leveraging the value of CME enterprise while decreasing the complexity and burden of professional requirements. "As demonstrated by the nearly 26 million interactions between US health practitioners and educators, the accredited CME community offers an education home that can support and nurture participation in CMS initiatives to improve quality and further promote safe, cost-effective care," Graham McMahon, MD, MMSc, President and CEO, ACCME, writes.
ACPE: Each accreditation board manages activity credit and participant information in a unique way. The ACPE requires providers to submit this information online via CPE Monitor™. This collaborative website from the ACPE and the National Association of Boards of Pharmacy (NABP) allows for data to be streamlined as it's authenticated, stored and reported.
Pharmacists and pharmacy technicians simply use their unique ID number from NABP when registering for CPE activities, and to access their electronic profile, credit information, etc.
However, when it comes to other learners (other than pharmacists/pharmacy technicians), the ACPE expects the accredited provider to manage relies on statements of credit or participation as evidence of successful course completion.
The ACPE requirements for these non-pharmacist/technician statements of credits are as follows (Policies and Procedures 7.1):
The name of the learner
The title and date(s) of the activity;
Type of activity: knowledge, application, practice;
The appropriate target audience designation ("P" or "T")

Separate statements of credit must be issued to either pharmacists or pharmacy technicians
If non-pharmacist attends the activity, a statement of credit with a "P" designation should be issued;

The accredited provider sponsoring or joint providing the activity;
The official ACPE logo;
The amount of credit awarded;
The assigned ACPE Universal Activity Number;
The date the CPE Administrator signed the original statement of credit (either hand-written or electronically generated).
ANCC: An organization interested in becoming an accredited continuing nursing education (CNE) Provider Unit must be under the direction of a Lead Nurse Planner (LNP). The LNP must have the following qualifications:
Registered nurse with a baccalaureate degree or higher in nursing (or international equivalent)
Graduate degree
Current unencumbered nursing license
The LNP must have authority within the Provider Unit to ensure adherence to the ANCC Accreditation Program criteria. The LNP is also responsible to train, manage and ensures competence of additional Nurse Planners who may also serve as part of the Provider Unit. A Nurse
Planner (NP) must have the following qualifications:
Registered nurse with a baccalaureate degree or higher in nursing (or international equivalent)
Current unencumbered nursing license
NPs serve on planning committees and are actively involved in all aspects of planning, implementation and evaluation of each CNE activity. The NP is responsible for assessing appropriate educational design principles that are utilized and ensures processes are consistent with the requirements of the ANCC Primary Accreditation Program. Each CNE activity planning committee must contain at least one NP. For more information about ANCC Accredited Provider requirements.

PPSA (Sunshine Act) Pulse
In recent weeks, AOE has fielded a number of questions related to the Sunshine Act. While the CMS has not made formal changes to the Final Rule since January, many questions have emerged as commercial funders continue to interpret their understanding of reporting requirements. AOE believes it is important to understand the difference between what is a PPSA mandate or requirement, and what is a specific funder's interpretation of PPSA's language. Just like grant submission portals, interpretations of PPSA across funders vary significantly and are ever changing.
In December of 2014 CMS did modify language in its Final Rule  (pg. 595-596), redefining its Open Payment reporting rules to specifically exclude the vast majority of CME payments, including speaker-related payments and tuition support for attendees, so long as they follow CME guidelines and are, therefore, not directed by a commercial supporter.   
Per the CME Coalition's commentary, "Although CMS deleted the section of a previous rule that defined a limited CME reporting exclusion for CME payments for certain accredited programs, the new rule sets reasonable criteria for determining which CME-related payments need not be reported."
The CME Coalition goes on to clarify, "While CMS announced that the section of last year's Open Payments rule that created a special CME exemption was eliminated, the agency provided redefined and pre-existing reporting rules that specifically exclude CME payments — including speaker-related payments and tuition support for attendees — so long as they are not directed by a commercial supporter and otherwise do not meet the definition of an indirect payment under §403.904(i)(1).
In sum, when working with individual commercial funders' reporting requirements, keep in mind that their requirements are grounded in interpretations of PPSA and these interpretations are not official PPSA language. As such, a funder's reporting requirements are subject to change at any moment, if the funder's interpretation shifts.

Service in the Spotlight: AOE On-Site with The American Association of Neuropathologists (AANP)
One of the unique services AOE offers is its On-site, On-Demand meeting compliance services, where members of our team offer hands-on CME/CE compliance expertise at live meetings and conferences. In mid-June, members of the AOE Consulting team travelled to Baltimore, Maryland for the 92nd Annual Meeting of the American Association of Neuropathologists to manage CME compliance on-site.
AOE has built a strong team-oriented culture beyond the office walls, creating a collaborative, solutions-oriented environment in which to help our partners smoothly navigate long, busy days required for meeting success.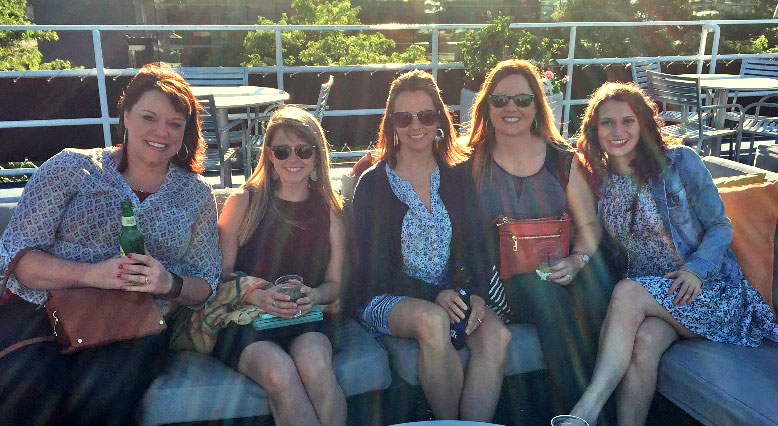 Specific to this Annual Meeting, AOE managed on-site compliance across faculty slide review, a CME information desk and on-site auditing of accredited CME sessions.. In this role, the AOE staff becomes an extension of your team, bringing compliance expertise to help execute compliance across concurring sessions, spanning multiple days.
The meeting was a tremendous success and AOE Consulting commends The American Association of Neuropathologist on developing such an engaging and impactful meeting. As one attendee stated, "Overall these sessions were of extraordinarily high quality and I certainly learned a lot."
We look forward to the 93rd Annual Meeting next year in Orange County, CA!
---
Upcoming Activities/Education Opportunities