Welcome to the June edition of AOE Compliance Connection, AOE's monthly newsletter.
As we pass the Summer Solstice and approach the end of Q2, it's amazing how quickly 2017 is progressing. Much has happened in the CME/CE Enterprise during the first half of this year, and the second half promises to be just as engaging and exciting.
This newsletter resource is designed to keep you abreast of the changes and updates happening within each of the major boards (ACCME, ACPE, ANCC) as well as within AOE. This is just one of the ways we support our clients as they navigate CME/CE compliance success.
Please visit www.aoeconsulting.com for even more information, including a library of guidelines and weekly compliance tips!

Accreditation Board Bulletin
ACCME
The ACCME has released another tool to use in conjunction with the new Menu of Commendation Criteria. The new tool is the ACCME commendation criteria wheel. This tool is a graphic representation of the new commendation categories and criteria that are a part of the new menu.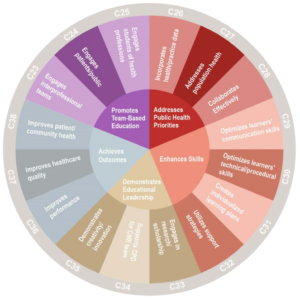 In addition to this latest tool, the ACCME continues to release other resources to assist CME providers in understanding and meeting the ACCME's expectations regarding the new commendation criteria. These resources include FAQs, examples and video commentary. Click below to learn more about each of the commendation categories:
Promotes Team-Based Education: Criteria 23-25
Addresses Public Health Priorities: Criteria 26-28
Enhances Skills: Criteria 29-32
Demonstrates Educational Leadership: Criteria 33-35 
Achieves Outcomes: Criteria 36-38
As a final note, providers seeking Accreditation with Commendation currently can choose to demonstrate compliance with the original Commendation Criteria (C16-C22) or the Menu of New Commendation Criteria (C23-C38). Providers need to select one set of commendation criteria (C16-C22 OR C23-C38). Commendation criteria cannot be a combination of criteria from the two different options. Providers that will receive accreditation decisions after November 2019 will need to use the new commendation criteria (C23-C38).
For all available information regarding the ACCME's Menu of Criteria for Accreditation with Commendation, visit www.accme.org/commendation.
ACPE:
The ACPE utilizes a unique tool with which providers can must register and manage activity and participant information. While not new, we wanted to provide a brief overview of the Provider Web Tool (PWT) for those less familiar. The PWT is a web-based application designed for ACPE-accredited providers to "input CE activity related information for redistribution to the Pharmacists' Learning Assistance Network (P.L.A.N.) and validation mechanism to CPE Monitor". P.L.A.N. is the search and find mechanism for pharmacists to locate pertinent CE activities.
Using the Provider Web Tool allows providers to:
Review their organization's accreditation history
Create new CE activities
Request and submit changes to those activities
Update their organization's contact information via the Provider Verification Form
Access and download the ACPE and PLAN logos
Update other CE activity related information
Request changes to an ADF (Activity Description Forms)
The ACPE updates the Provider Web Tool on a regular basis, and has created both User Guide and FAQ resources, available for download.
ANCC:
The ANCC allows for accredited providers to work in joint providership with other organizations. As required by other accreditation boards, a joint providing organization cannot be an ANCC-defined commercial interest. In a joint providership relationship situation, the organization taking the lead as the accredited provider is always referred to as the Provider of the continuing nursing education activity, while any other, partnering organization is referred to as the Joint Provider of the continuing nursing education activity.
The ANCC allows for two accredited providers to work together in joint providership, but one must assume responsibility for adherence to ANCC criteria and standards and be considered the Provider. All materials associated with the educational activity including, audience generation materials, save the dates, agendas, certificates of completion, program materials and handouts, etc. must clearly indicate the Provider that is awarding contact hours and is responsible for ensuring all ANCC criteria and standards are being met.
If commercial support is solicited and awarded, the Provider must have a fully executed written Letter of Agreement (LOA) with the commercial interest organization prior to launch of the activity. The Joint Provider(s) may also be included in the LOA, but it is the responsibility of the Provider to assume responsibility for adhering to ANCC criteria and standards. For more information regarding ANCC Primary Accreditation Criteria and Standards, visit this resource page or contact any AOE team member to assist you in your inquiry.

CME in the News: ABIM MOC
This Spring, a new resource was released to aid accredited providers in their design of ACCME activities eligible for ABIM MOC Credit.

The ABIM MOC Assessment Recognition Program Guide is a nine-page PDF download that is available online, and contains well-organized information in the following categories:
Credit types (Medical Knowledge, Practice Assessment, Patient Safety)
Requirements (ABIM1-5, ABIM6-8, ABIM9-15) as they correspond with the above credit types
Participant Completion Information
Use of Participant Data
Program Fees/Participant Fees
Data Privacy and Security Compliance
Public Information about ABIM MOC Activities
Recognition Statement
Audit Information
Evaluation Examples
This helpful guide includes key resources in one place, and additional information, such as Submitting Participant Management Data steps, is still available at the ACCME's online hub for ABIM MOC information.

AOE in the Spotlight: CME Bootcamp
In addition to our core accreditation services, AOE Consulting offers tailored trainings to meet the professional development needs of various CME organizations and their staff. Our CME/CE Bootcamp is a 5.0 hour on-site, interactive training tailored to an accredited provider's CME program. The training encompasses the following CME fundamentals:
CME Regulatory History and Timeline of Developments
CME Stakeholders: Authority and Action
Policies and Regulations Explained
Best Practices and Examples of Compliance

The training provides CME professionals with an opportunity to ask questions and engage in dialogue about examples specific to their program. CME Bootcamp also provides best practices and resources for immediate implementation.

In addition to registration fees, other CME professional development opportunities have associated staff travel costs (i.e. airfare, hotel, per diem, etc.). CME Bootcamp sends one AOE staff member on-site which significantly reduces overall expenses.

AOE Consulting is poised to develop a CME Bootcamp that meets the needs of your CME program and staff. Please reach out to inquire@aoeconsulting.com if you have additional questions about CME Bootcamp or would like to learn more.

---

Upcoming Activities/Education Opportunities