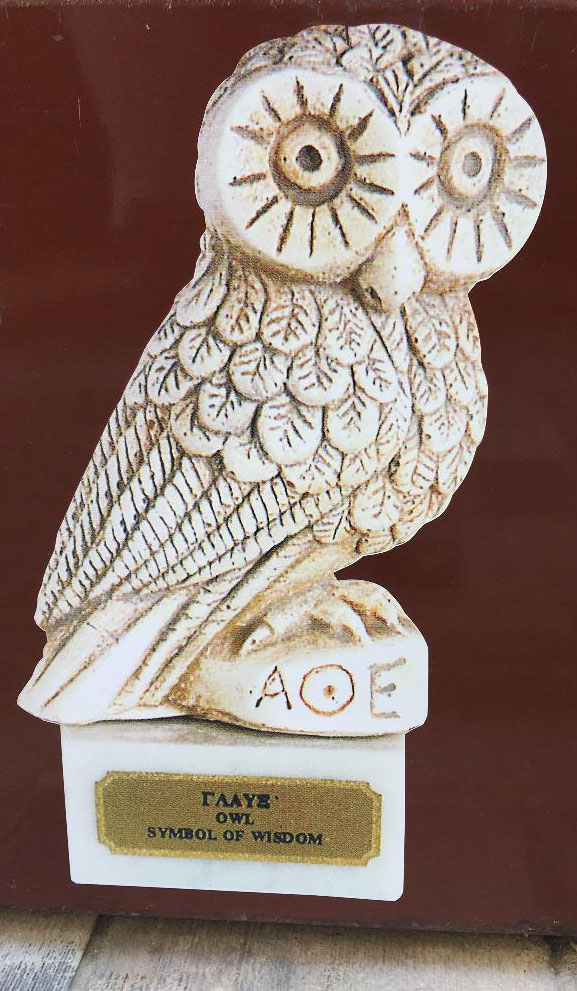 Welcome to the September edition of AOE Compliance Connection, AOE's monthly newsletter. This resource offers accreditation board bulletins for ACCME, ACPE, and ANCC, along with regulatory updates, highlights of AOE's services, and information on upcoming activities and educational opportunities.   ­
What's in a Name?
Have you ever wondered about the meaning behind "AOE"? AOE's name is derived from the three Greek letters that represented the ancient city-state of Athens. In addition to the letters, each Greek city-state was associated with an animal mascot. The symbol for Athens was the owl, as it was believed by ancient Greek leaders and philosophers that the owl would circle the Earth each night, collect the wisdom of the world, and return it to Athens.
One of AOE's clients was recently in Greece and captured this image featuring the letters "AOE" and the owl of wisdom!
We are proud of our name and the roots that connect us with the ancient Greek symbol of wisdom, and we bear this in mind as we work diligently with each and every client to facilitate CME/CE compliance success.

Accreditation Board Bulletin
ACCME: The ACCME Board of Directors approved new criteria for Accreditation with Commendation at the July 2016 meeting. A comprehensive package consisting of the new commendation criteria, guidelines and compliance measures, a transition plan and implementation schedule and educational resources is expected to be released this fall.
As part of a proposal that was open for public comment which opened this past January 2016, there were 16 new proposed commendation criteria, grouped into the following five categories:
Inclusive Teaching and Learning
Addressing Public Health Priorities
Creating Behavioral Change
Demonstrating Leadership
Achieving Outcomes
The commendation criteria will be structured as a menu that gives accredited CME providers the opportunity to choose a select number of criteria most appropriate for their organization. View the menu of proposed criteria.
In an attempt to give providers time to prepare to meet the expectations of the new commendation criteria, an extended transition phase will be implemented. During the transition phase, accredited providers pursuing Accreditation with Commendation will have the option of demonstrating compliance with the current commendation criteria OR the new commendation criteria. As with the current commendation criteria, new commendation criteria compliance will be optional and will not be required to achieve Accreditation.
Stay tuned to future issues of the AOE Compliance Connection for the official release of the new commendation criteria.
ACPE: When designing a CPE activity for ACPE accreditation, one of the areas that requires special attention is the activity evaluation, particularly if your educational initiative(s) is multi-accredited.
Activity evaluations whereby data can be summarized and analyzed for pharmacists (and/or technicians) separately, must allow those learners to provide feedback on these specific areas:
Applicability of the CPE activity to meet their educational needs
Achievement of each stated objective
Quality of faculty
Usefulness of educational material
Effectiveness of teaching and learning methods, including active learning
Appropriateness of learning assessment activities
Perceptions of bias or commercialism
The above items are the minimum CPE activity evaluation requirements. The ACPE encourages providers to evaluate additional items, as may be relevant to a provider's CPE program.
ANCC: ANCC accredited providers are required to submit an annual CE activity summary report each year. Beginning in 2017, the ANCC will implement the Nursing Accreditation Reporting System (NARS). NARS will serve as an online database to support the annual collection of CNE Provider Unit activity data. This online system aims to streamline the annual reporting process and replace the previous annual reporting procedure, conducted via downloadable forms and email.
NARS will allow users to update their activities continuously throughout the year, or use a batch upload process to add multiple activity data at one time. NARS will require a unique login ID and password. Currently, the ANCC is allowing for dual submission systems using downloadable forms and email OR the new online NARS through April 1, 2017. Access NARS and set-up your account information.

Let AOE Help: CME/CE Reaccreditation Tips
As your CME program enters the fall season and moves towards the final quarter of 2016, what milestones are left to reach and what lies ahead in 2017?
ACCME-accredited providers in the July 2017 cohort are submerged in reaccreditation as we speak, navigating development of the Self-Study and compilation of Performance-in-Practice documentation. Those in the November 2017 cohort are about to follow, confirming their intent to apply for reaccreditation by September 14.
Similarly, ANCC-accredited providers in the March cycle will submit their application by November 1 and begin development of their Self-Study package which is due March 1. ACPE-accredited providers seeking reaccreditation either just wrapped up their submission or are gearing up for the spring review.
Wherever CME/CE providers find themselves, AOE would like to offer a few tips for the reaccreditation process:
Tip #1: Develop a comprehensive, internal timeline for reaccreditation at least nine months in advance of the accreditation term expiration. This plan should identify key stakeholders and clearly delineate responsibilities.
Tip #2: Use a checklist, developed in alignment to accreditation standards and policies, to audit CME/CE activities selected for review.
Tip #3: Succinctness and clarity should prevail in the development of the Self-Study. While the narrative should thoroughly address each section and the questions embedded within, steer clear of rambling and repetition.
Lastly, if your CME/CE program is seeking guidance through the reaccreditation process, AOE provides tailored solutions to meet your organization's needs. For more information regarding our reaccreditation deliverables, you can set up an informational call by e-mailing inquire@aoeconsulting.com.

CME in the Spotlight: Global CME Impact Award
To recognize influential and impactful CME/CE programs that are positively and effectively transforming healthcare, Global Education Group has partnered with the Global Alliance for Medical Education (GAME) to launch the Global CME Impact Award. The award will recognize excellence, influence, and achievement by organizations executing impactful CME/CE activities.

Entries, which can be submitted online at www.globalcmeaward.com, will be reviewed and assessed in the areas of program innovation, results, and impact by a panel of six judges whose affiliations include medical societies, commercial entities, medical education companies, and professional organizations. The deadline for submitting an entry for the award is November 7, 2016.
The winner will be announced at the ACEHh 2017 Annual Meeting in San Francisco, CA, during GAME's session, and will be showcased during the meeting. For more information, including rules, eligibility, and FAQs visit the Global CME Impact Award site.
---
Upcoming Activities/Education Opportunities