Welcome to the September edition of AOE Compliance Connection, AOE's monthly newsletter. Fall has begun and as the leaves change, we hope you and your team are transitioning into a productive and energizing season. In this month's newsletter, we share helpful takeaways from the ACCME's Accreditation Workshop, a look at the new article about medical misinformation from ACCME CEO and President Graham McMahon, MD, MMSc, Optimistic in the Face of Impotence, and highlights from AOE's involvement in last month's Colorado Alliance for Continuing Medical Education (CACME) conference. Additionally, you'll get acquainted with AOE's Managing Director, Annika Borvansky, MA, CHCP, and her love of spicy foods! Take a minute to follow us on Twitter and Facebook to catch our weekly compliance tips and updates. As always, email us at inquire@aoeconsulting.com – we are happy to answer your questions!

ACCME Accreditation Workshop
ACCME's in-person Accreditation Workshop, held August 3-5, 2022, featured professional development and educational opportunities for those new to accredited continuing education (CE). Topics covered included the Standards for Integrity and Independence in Accredited CE, positioning organizations to pursue Accreditation with Commendation, and exploring planning strategies in a group setting to allow for constructive feedback and dialogue.
AOE's Program Manager, Melissa Marick, was in attendance to catch all the action in Chicago – the workshop and breakout groups – and brought back some firsthand reports to share. She reported that the atmosphere of collaboration and community was valuable and that the deep dive into the ACCME website was among the most helpful education.
A focus of the workshop was identifying the unique challenges that healthcare professionals face (while also discussing the overarching value of CE) and facilitating dialogue and community to help new providers address those obstacles and questions. Attendees studied the Standards for Integrity and Independence in Accredited Continuing Education in depth and focused on the providers' responsibilities in each standard.
Other areas of focus were ACCME resources (ACCME website, PARS tutorials, Accreditation with Commendation criteria tools, CE Educator's Toolkit, and more) and reaccreditation tips relating specifically to the Performance-in-Practice activity documentation. Breakout groups gave learners time to interact with like organizations, asking questions specific to themselves and gaining insight from the other learners' questions. At the end of the workshop, individuals completed a PDSA (Plan, Design, Study, Act) Model, creating personal goals based on what was learned during their time together.

CE Community Conversations
ACCME CEO and President Graham McMahon, MD, MMSc, recently published an essay with the American Board of Internal Medicine (ABIM) Foundation Forum focusing on the confusion caused by medical misinformation. Published in August, the article features McMahon's thoughts on the value of CME in helping to combat medical information through organizations' dedication to making sure that activity content is free from commercial bias and scientifically accurate.
McMahon states: "With this continuing work from all of us to separate accredited education from that which serves other purposes, I have hope that my practice will not be held captive to commercial interests exploiting vulnerable people and underinformed prescribers. Further, I want to ensure that the intellectual stimulation of accredited continuing education will help me sustain joy and meaning in my practice. And that, over time, our content validity efforts will ultimately promote the advancement of science, combat misinformation, and restore public trust in science and the practice of medicine."
You can read the essay and call to action in its entirety here.

AOE Spotlight: CE Leadership in Golden
Last month, representatives from AOE participated in the Colorado Alliance for Continuing Medical Education's one-day live event in Golden, CO. Hosted on August 19, 2022, the CACME 2022 Annual Leadership Conference featured a full day of presentations and education, including three presentations from AOE team members.
Carlye Armstrong, CHCP co-presented "Better Together: The Top 5 Best-Practices for Working in Joint Providership", which addressed the gap of knowledge surrounding managing a joint provider during the accredited CE process. She addressed some of the major pitfalls APs experience along with the best practices in which to address them.
Renea Marin, CHCP, presented "Best Practices in Management of a Hybrid Meeting" and engaged participants by using case examples and lessons learned surrounding the hybrid format, touching on opportunities and challenges that the format affords. Marin argued that the key areas for management of a hybrid meeting are platform selection, team coordination, and attendee management.
Armstrong also presented "Identification & Mitigation of Relevant Financial Relationships: Did You Know?" which unpacked some of the ACCME's newer FAQs designed to provide clarity and guidance surrounding Standard 3.

AOE's Team: Get to Know Us!
The entire team at AOE is dedicated to helping our clients and serving you with our expertise and experience in every interaction. Over the summer, we introduced you to the faces that are hard at work behind the scenes at AOE. Last month you met two project coordinators, Alexis LaCount and Lyndsay Cole, and this month, you'll meet our managing director, Annika Borvansky.
Annika Borvansky, MA, CHCP, Managing Director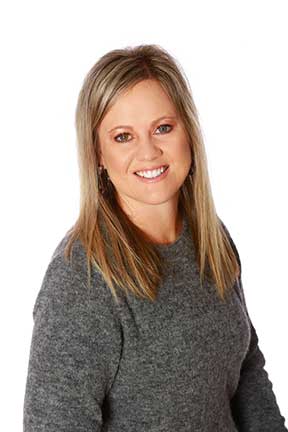 Q: How long have you worked with AOE?
A: "I have been with AOE since its inception 14 years ago!"
Q: What do you most enjoy about working in the world of compliance and CE?
A: "The work we do, though indirect, impacts the health and outcomes of patients. Helping organizations achieve and maintain compliance with the accredited CE they design and implement helps us all – at some point we all sit in the seat of being a patient."
Q: What is a recent project that has really excited you?
A: "Each of our consulting engagements is centered on making a positive impact and being a value-add for CE programs. Often, we're asked to translate accreditation guidelines to specific CE circumstances, and frequently our work involves coming up with thoughtful solutions that ensure compliance and address stakeholder expectations. It's exciting when we're able to marry the two!"
Q: What is one shift/change in CE you'd like to see in the future?
A: "It would be tremendous if one day there was clear understanding on behalf of non-CE professionals regarding what accredited CE is and the compliance rigor involved."
Q: A fun fact about you:
A: "The more spice, the better (I enjoy jalapeño peppers – seeds and all)!"