Welcome to AOE's July 2023 edition of AOE Compliance Connection, our monthly newsletter. In this edition, we feature a behind-the-scenes look at ACCME Working Groups, share our own analysis of the ACCME 2022 Annual Report data, and continue a fun summer series focused on CE compliance myths. We even take a minute for a quick review of Standard 1 of the Standards for Integrity and Independence in Accredited Continuing Education.
As the temperature heats up, we hope you and your team are able to enjoy the summer and pursue compliance in all your CE efforts. It only takes a minute to follow us on social media (Twitter and Facebook) for helpful weekly compliance tips and updates. Reach out any time with questions or CE compliance inquiries of any type: inquire@aoeconsulting.com.

ACCME: Working Groups and Data Analysis
Life Cycle of a Working Group
Working Groups are a recent ACCME project that was birthed in 2021 out of the desire to facilitate collaboration among CE professionals and the production of resources to benefit the entire accredited education community.
Working Groups function throughout the year, and both collaborate and present at each Learn to Thrive annual conference. They are open to anyone in the CE community, regardless of whether or not that individual attended the conference. A kickoff webinar (this year hosted on June 14, 2023) is the opportunity for leadership teams to share the key issues they'll be addressing and hoped-for outcomes, along with a chance to field questions from prospective participants. Sign-ups were open through the remainder of June.
Throughout 2023, these four Working Groups will be hosted:
Using Innovation and Creativity to Fund Your CME/CPD Activities
Sparking Innovation through Continuing Education
Meaningful Engagement of Patient Partners in CE
Advancing CE to Address the Substance Use Crisis
Going forward, Working Group teams will meet virtually from July to October, to collaborate and further their team projects. The ACCME will work in tandem with each group, helping to "produce and disseminate" each project from October through May 2024. Finally, at next year's Learn to Thrive conference in May 2024, groups will share the goals, outcomes, and final resources.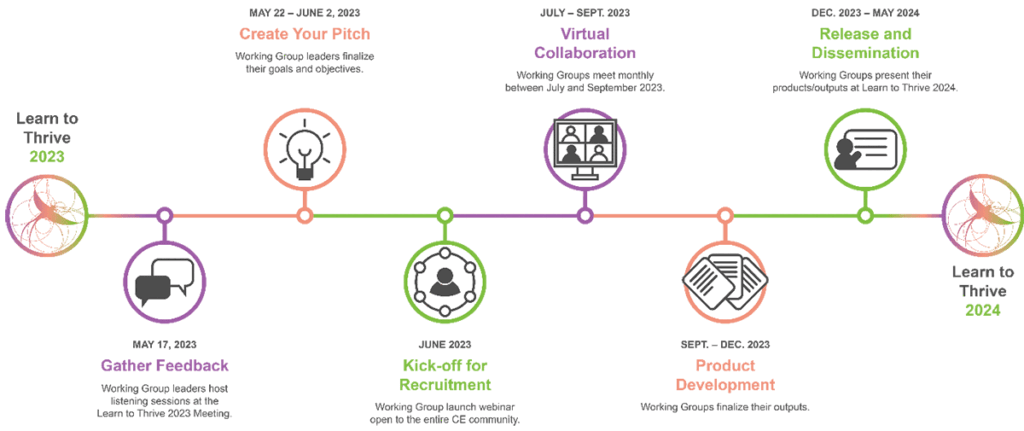 Analysis of ACCME's 2022 Annual Report Data
The ACCME's 2022 Annual Report data was released on July 13, 2023, and analyzes data from 1,620 accredited CE providers who offered, collectively, approximately 230,000 CE activities. The report highlights continued growth in the accredited CE enterprise and emphasizes how accredited providers have "weathered a storm, regrouped, and rebounded" in the post-pandemic world to continue to offer quality education to the healthcare community. Featured in the report are present and evolving challenges facing providers, including artificial intelligence and equity in healthcare.
AOE's concise, helpful analysis of the report can be read here.

CE Compliance Help: ACCME Myths of the Month
The ACCME is tackling common myths that surround accreditation and the efficient planning of CE activities. Novice and seasoned CE teams alike can benefit from regular reflection on processes and streamlining! Today, we continue a summer newsletter series that features two key myths (and a summary of the response) each month. Last month, we focused on the (incorrect!) assumption that the activity course chair must fill out the CE activity planning form and the (often misunderstood) role of publishing learning objectives. This month, let's turn our attention to the activity evaluation and collection of disclosure:
Myth #3: The ACCME requires that learners complete an evaluation form following every activity.
This is false! It is true that the ACCME requires accredited CE providers to evaluate changes in learners outcomes (i.e., competence and/or performance) or patient outcomes, but many of these methods do not involve the completion of a written survey or evaluation. For example, the ACCME gives the example that facilitators could host and moderate short discussions during the education surrounding new strategies discussed by the learners. Another example would be to have learners share reflective statements via email, text, or even verbally. Learn more about the options here.
Myth #4: An accredited provider must collect a new disclosure from an individual for each activity in which that individual is in control of content.
This is also false. The ACCME states that accredited providers are allowed to share a copy of an existing disclosure for the individual and simply confirm if the information is still accurate (or if it needs to be updated). Learn more here.
You can view the complete list of myths (and related realities) here.

Let's Review: A Survey of the Standards
The Standards for Integrity and Independence in Accredited Continuing Education were released in December 2020 with required implementation by January 1, 2022, officially replacing the established Standards for Commercial Support. The new Standards have been adopted by multiple boards in addition to the Accreditation Council for Continuing Medical Education (ACCME), including ACPE, AAFP, and Joint Accreditation for Interprofessional Continuing Education.
As all providers are required to demonstrate ongoing compliance with the Standards, it is a good practice for CE teams to review and refresh on the content and requirements of each Standard. AOE helped many organizations transition their policies and procedures to align with the new Standards and remains poised to help your organization maintain compliance with all five Standards. Over the next few months, AOE will feature one Standard per newsletter, to offer readers insight and tools beyond a surface level.
Standard 1
The first of the 5 Standards, Standard 1 pertains to ensuring content is valid. "Accredited providers are responsible for ensuring that their education is fair and balanced and that any clinical content presented supports safe, effective patient care."
The various components of the standard flesh out the content validity requirements for compliant providers:
All recommendations for patient care in accredited continuing education must be based on current science, evidence, and clinical reasoning, while giving a fair and balanced view of diagnostic and therapeutic options.
All scientific research referred to, reported, or used in accredited education in support or justification of a patient care recommendation must conform to the generally accepted standards of experimental design, data collection, analysis, and interpretation.
Although accredited continuing education is an appropriate place to discuss, debate, and explore new and evolving topics, these areas need to be clearly identified as such within the program and individual presentations. It is the responsibility of accredited providers to facilitate engagement with these topics without advocating for, or promoting, practices that are not, or not yet, adequately based on current science, evidence, and clinical reasoning.
Organizations cannot be accredited if they advocate for unscientific approaches to diagnosis or therapy, or if their education promotes recommendations, treatment, or manners of practicing healthcare that are determined to have risks or dangers that outweigh the benefits or are known to be ineffective in the treatment of patients.
In order to document compliance with Standard 1, organizations can utilize a template created by the ACCME. This sample clinical content review form includes all the necessary components.
More information about all the Standards can be found here.