Welcome to the October edition of AOE Compliance Connection, AOE's monthly newsletter. In this month's newsletter, we share helpful updates from the ACCME about Annual Reporting, next year's ACCME meeting, and AOE's analysis of the ACCME 2021 Annual Report data. Also, we'll share some guidance about initial accreditation (and how AOE can help!) and a fun get-to-know-you with one of AOE's team members. If you don't already follow us on Twitter and Facebook, do that now so you don't miss our weekly compliance tips and updates. As always, email us at inquire@aoeconsulting.com – we are happy to answer your questions!

ACCME 2021 Annual Report
The ACCME's 2021 Annual Data Report: Onward and Upward: Thriving Together in Accredited Continuing Education was released on October 5, 2022, featuring data from a community of 1,668 accredited organizations. The data highlights a growing accredited continuing education (CE) system and illustrates how providers adapted to unique challenges over the past year, and evolved their programs effectively. AOE's analysis of the data, available here, provides a clear summary and helpful infographics.
Call for Proposals: 2023 Meeting
The ACCME has officially announced the ACCME 2023 meeting and are inviting the CE community to participate in shaping the meeting by submitting proposals. The meeting with be in-person (only) next May 16-18 in Chicago.
Three types of proposal submissions are welcome: 1) sessions, 2) research projects, and 3) working groups.
Inspire & Teach! Sessions and Intensive Sessions – Traditional 60-minute spots are available for the Inspire & Teach! Sessions. These are ideal for sharing new strategies with the CE community. New in 2023, there will be some availability for two hour Intensive Sessions to provide some additional time, a deeper dive, and increased interaction with the community.
CE Effectiveness & Best Practices: Engaging in CE Research – Research presentations will create a research poster, record a "lightning talk" summary prior to the meeting, share an oral presentation, compete for a prize, engage in subsequent meetings.
Better Together: Working Groups – These proposals must be submitted by a team from at least two accredited CE providers (up to four individuals). Accepted working groups will begin their work at the ACCME 2023 Meeting and will collaborate throughout the rest of 2023 and early 2024 on an outcome.
General guidelines for submission are available here. Additionally, a webinar was hosted earlier this month about the Call for Proposals and the recording is now available here.
Participants are invited to submit multiple proposals for any type or across multiple types of submissions. The call for proposals will be open until 11:59 pm on Friday, October 28, 2022.
Tab-Delimited Batch Upload Update
When the ACCME launched its PARS update in November 2021, they committed to supporting tab-delimited TXT batch upload templates for one subsequent year. True to this commitment, the TXT template will be retiring on December 16, 2022.
The reason behind this transition is that the TXT template does not allow providers to close their activities in PARS and that it utilizes data fields no longer collected in the PARS updated system, potentially resulting in inaccuracies and frustrating upload issues.
The ACCME's official recommendation, for providers who have been using TXT template for batch uploads is to use the Excel template for uploading 2022 activities in as it allows for seamless batch uploads for activity and learner credit data both.
Information about this transition (along with helpful resources) can be found here.
Additionally, a series of webinars will be hosted later this month designed to help you get started with Excel templates:

CE Community: Initial Accreditation
Stepping into initial accreditation can be an overwhelming process. AOE is here to help you! We are committed to stay by your side through each phase of initial accreditation. We will support you through compliance expertise, proven quality, and excellence with implementation of effective policies and procedures.
Our team members are experts in the field of accreditation: We learn from actual initial accreditation interviews with accreditation board surveyors and appraisers and have routine hands-on experience with multiple boards: Joint Accreditation, ACCME, ACPE, and ANCC Self-Study and Self-Assessment Reports. From start to finish, we understand the initial accreditation process inside out.
Don't let the process overwhelm you. AOE is qualified to partner with you and your team to understand your individual organizational structure, design and implement accredited CE policies and procedures, and to help you effectively meet accreditation board requirements to achieve initial accreditation.
Here are a few of the AOE-led services you can expect during the initial accreditation process:
Accredited CE Program Audit and Accreditation Workshop
Accredited CE Policy & Procedure Review, Updates and/or Development
Joint Accreditation, ACCME, ACPE, and ANCC Self-Study/Self-Assessment Design, Development, Compliance Review and/or Editing
Performance-in-Practice Activity File Audit, Compilation and/or Compliance Review
Mock Accreditation Interview
Participation in the Accreditation Interview
Don't hesitate to reach out to AOE with questions about how we can help!

AOE's Team: Get to Know Us!
The entire team at AOE is dedicated to helping our clients and serving you with our expertise and experience in every interaction. Over the summer, we introduced you to the faces that are hard at work behind the scenes at AOE. Last month, you met Annika Borvansky, AOE's Managing Director. This month, we'd love to introduce you to Maya Grant!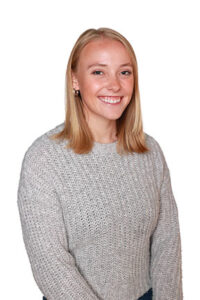 Maya Grant, Project Coordinator
Q: How long have you worked with AOE?
A: "I have been with AOE since June 2022."
Q: What do you most enjoy about working in the world of compliance and CE?
A: "So far, I really enjoy working in CE/Compliance as there is always work to be done and always more to learn! This is a field in which you remain constantly busy – that's exciting to me. I also really enjoy being part of the process that helps ensure patients and clients are receiving best practices, care, and treatment."
Q: What is a recent project that has really excited you? 
A: "I have just been brought on to work with a client in CE coordination. I am particularly excited to work with this client as their mission and values align with my own as they emphasize community, compassion, and social justice. I am grateful for this opportunity!"
Q: A fun fact about you:
A: "I really love to bake and cook – it is my absolute favorite hobby! When I was ten years old, I even started a small cupcake business!"
Alliance 2023 Annual Conference
February 6-9, 2023, National Harbor, MD
Read More >>
SACME Annual Meeting 2023
March 14-17, 2023, Nashville, TN
Read More >>
ACCME 2023 Meeting
May 16-18, 2023, Chicago, IL
Read More >>