Welcome to the August edition of AOE Compliance Connection, AOE's monthly newsletter! We have much to share this month, both internally and regarding the CME Enterprise at large.
Our team is pleased to announce a new "What We Do" video on our site that gives viewers insight into our passion for this line of work, and specifics into the services we offer. Take a look here, or online.
Keep reading for accreditation board information for ACCME, ACPE and ANCC, industry updates and highlights and information about upcoming activities and opportunities for educational growth.
Enjoy this month's edition of AOE Compliance Connection! Please visit www.aoeconsulting.com for even more information, including a library of guidelines and weekly compliance tips.

Accreditation Board Bulletin
ACCME
One common area of non-compliance for ACCME providers is the use of employees of an ACCME-defined commercial interest in the content creation process. It is prohibited to have employees of a commercial interest function as a planner, faculty member or other content-controlling role in the design or delivery of CME activities. The fiduciary responsibility that an employee has with their employer, creates a non-resolvable conflict of interest.
The exclusion of employees of ACCME-defined commercial interests to control content of accredited CME is included in Standard 1 (Independence) and Standard 2 (Resolution of Personal Conflicts of Interest) of the Standards of Commercial SupportSM. As there are no adequate resolution strategies to demonstrate compliance when employees of ACCME-defined commercial interests are involved, these employees cannot be utilized in any content-controlling role in accredited CME.
There are a few exceptions to this rule, however. Employees of an ACCME-defined commercial interest can be used as faculty, planners or in other roles where they are in a position to control content of accredited CME in three specific situations outlined below:
When the CME activity is not related to the business lines or products of their employer.
When the content of the accredited CME activity is limited to basic science research or the processes/methodologies of research, unrelated to a specific disease or compound/drug.
When the employees are participating as technicians in accredited CME activities that teach the safe and proper use of medical devices.
Because noncompliance with independence in accredited CME is a common violation, the ACCME has created educational resources to support providers as they navigate independence in accredited CME. Click here to read more.
ACPE:
Earlier this Summer, the ACPE made significant updates to their online portal, the Provider Web Tool (PWT). These changes made activity updates simpler, and streamlined user interfaces in multiple ways. Below is a summary of the implemented changes:
"Immunizations" and "Compounding" were both added as new topic designators to accommodate state board licensure requirements. The Immunizations topic (06) includes all activities related to the provision of immunizations, and Compounding (07) includes all activities related to sterile, nonsterile and hazardous drug compounding for humans and animals.
The above additions mean that now providers' UAN numbers will include the topic designators (01-07) as illustrated by the ACPE's diagram below:

RSS activities now will automatically default to a 1-year expiration, and cannot be extended. Additionally, the live dates listed under each RSS will require the selection of a specific subject for each live event.
Keyword selection is now required at the time of activity creation (at least one keyword) with the exception of RSS activities.
Coming soon: Providers will be allowed to upload multiple UANs at once to assist with uploading large volumes of UANs for conferences and seminars.
ANCC:
ANCC Accredited Providers of continuing nursing education (CNE) activities may solicit commercial interest organizations for commercial support of programs; and when commercial support is accepted, the integrity of the content must be protected. The commercial interest organization may not influence the CNE activity in any way through planning, development, implementation or evaluation. The ANCC's Content Integrity Standards for CNE details the requirements to protect the content integrity, and the Provider must satisfy all, when commercial support is accepted. In order to ensure compliance with ANCC's Content Integrity Standards for CNE, Providers must make certain the following items are documented within the activity file:
A fully executed written agreement between the commercial interest organization providing commercial support and the Provider applying for commercial support. The fully executed agreement must include:

Names of both, the commercial interest organization as well as the Provider
Complete description of both, financial and in-kind, support provided
Statement that the commercial interest organization will not participate in any aspect of planning, development, implementation, or evaluation of the CNE activity
Statement that learners will not be recruited for any reason from the CNE activity, by the commercial interest organization
Description of how the Provider must use the commercial support, unrestricted or restricted use.
Signatures of a representative with authority to enter into binding contracts from both, the commercial interest organization, as well as the Provider

A fully reconciled budget detailing the use of the commercial support
If an educational activity receiving commercial support is being offered through joint providership, the responsibility of managing the commercial support funds falls to the organization identified as "Provider" in accordance with ANCC Accreditation criteria. Educational activities may not be jointly provided by a commercial interest organization
Disclosure of commercial support to learners prior to engagement in the CNE activity

CME in the News: ACCME Data and AMA Collaboration
The ACCME Data Report for 2016 was released July 13, 2017, including annual growth highlights and key takeaways within the accreditation system. AOE's analysis of these data trends can be found on our site here.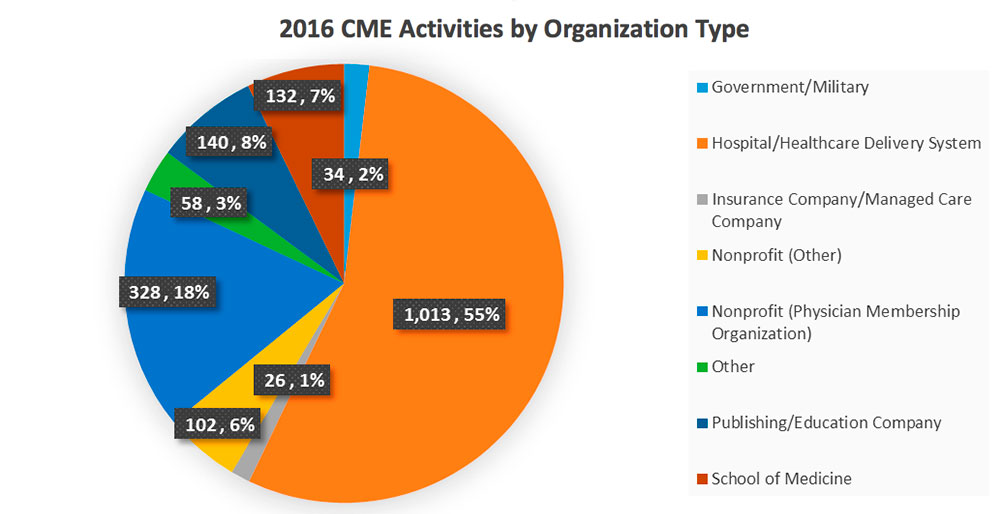 Another announcement from the ACCME was released earlier this month: The AMA (American Medical Association) and the ACCME announced their adoption of a final proposal that will simplify and align expectations for CME activities that are certified for AMA PRA Category 1 Credit™.
In April, both groups issued a collective call for comment on the proposed simplification. Respondents, in large, strongly agreed with the proposal. Now that the proposal has been adopted, the two groups are working together to develop a FAQ and other resources to be available this fall.
The heart of this proposal is to allow and encourage "accredited CME providers to introduce and blend new instructional practices and learning formats that are appropriate to their learners and setting, provided they abide by the AMA's seven core requirements."
The existing accreditation requirements will remain the same and no new rules will be introduced for accredited providers, and the AMA will simplify and reduce its learning format.
Additional information about the "Framework for Simplification of Requirements for Accredited CME Activities Certified for AMA PRA Category 1 Credit™" can be found in the news release posted here.

AOE in the Spotlight: Preparing for Your Reaccreditation Interview
Do you remember your last reaccreditation process? That moment when the Self-Study and Performance-in-Practice files have been submitted and there is a collective sigh of relief!
Actually, this is the perfect time to dive into preparation for the official ACCME Survey Interview, the final piece of evidence that the ACCME relies upon to make a reaccreditation decision. Below we've outlined some tips for preparing for your reaccreditation interview.
Know What to Expect: Off-set potential anxieties by ensuring that you and others participating in the interview know what to expect by carefully reading the email sent by the ACCME ahead of time. Typically, the interview itself will begin with the surveyors introducing themselves, then the provider introduces those staff members participating in the interview and provides a brief introduction to the CME program. Then surveyors dive into questions regarding the Self-Study and Performance-in-Practice files.
Prepare Introductory Speaking Points: Be prepared to introduce your CME program by developing a few introductory speaking points in advance. The introduction should only take five to ten minutes. Suggested speaking points include: provider overview, provider history/expertise/influence, and a few highlights from the Self-Study process.
Conduct a Mock Interview: One of the best ways to prepare for your ACCME Survey Interview is to go through a practice interview with your team. Develop potential questions a surveyor might ask for each section of the Self-Study as well as the Performance-in-Practice files. Examples include: "Please provide an overview of your COI Identification and Resolution process," or "Please explain the process you went through for the CME program analysis." Additionally, proactively identify areas in the Performance-in-Practice files for which surveyors might have questions or need additional clarification. Craft mock interview questions based on these identified areas and practice responding.
Proactively Manage Logistics: Ensure that each individual participating in the interview has access to a copy of the Self-Study in order to reference page numbers and respond to questions appropriately. Another recommendation is to project the Performance-in-Practice files so that files may be viewed by all interview participants and quickly referenced as surveyors ask questions. Lastly, identify designated leads for each chapter of the Self-Study. While the designated lead may not always be the individual responding for a given section, this structure helps ensure that the provider is well-prepared. It also helps preclude confusion as to who should be responding.
Overall, the ACCME Survey Interview is an opportunity for CME providers to address any questions surveyors might have and provide further evidence of their CME program's compliance with the Accreditation Criteria and Standards for Commercial SupportSM. For more information regarding the interview, please visit the ACCME's website: http://www.accme.org/cme-providers/reaccreditation/interview.
---
Upcoming Activities/Education Opportunities